What is the Endorser Program?
With this program, we hope for academics to endorse articles that they have read and found interesting.
Our intention is that the endorser program molds itself around the research lives of academics. Endorsers exclusively recommend articles that they have come across themselves. Academia.edu does not send articles to endorsers to read, nor are endorsers responsible for particular sub-fields of Academia.edu. The purpose of endorsers recommending articles is that other people in the fields of those articles may benefit.
How can I be an endorser?
The criteria to be an endorser on Academia.edu are:
have a doctorate or professorship in the field.
have some experience publishing papers.
have some experience peer reviewing papers.
Once one is an endorser, one has access to a special button: 'Recommend'. One is able to recommend on Academia.edu an article that one has found interesting.
The picture is that someone in a given field might be pursuing a new line of research, and in the course of doing so, might come across a paper that they think is good. If they would feel comfortable recommending this paper to other people in the field, they are able to enter the link on Academia.edu and click 'Recommend'.
When an article is endorsed, it is sent out to the micro-communities associated with the paper. Later, we'll send an email to the endorser explaining how many people clicked on the endorsement.
What kinds of articles can I endorse?
You can endorse any articles or books that you have read and found interesting. That includes a ten year old article that may deserve more attention than it got; a newly published article; or a manuscript that someone has uploaded. It can also include a book: just enter the link to the publisher page for the book.
Are endorsements public?
Yes. An endorser's name is attached to to the paper they endorse.
Can I add a comment to a endorsement?
Yes, you can add an optional comment. You can explain why you liked the paper, or add a caveat to the recommendation.
What measures are there to stop someone from trying to abuse the system?
Endorsements are public, so if one person were exclusively to recommend someone who recommended their own work, that may be embarrassing for them. There is always abuse, though, in any system, and we will monitor how the program evolves, and consider ways of preventing abuse that does occur.
What do endorsements look like on site?

When a paper is endorsed by someone you follow, it will appear on your news feed as shown below.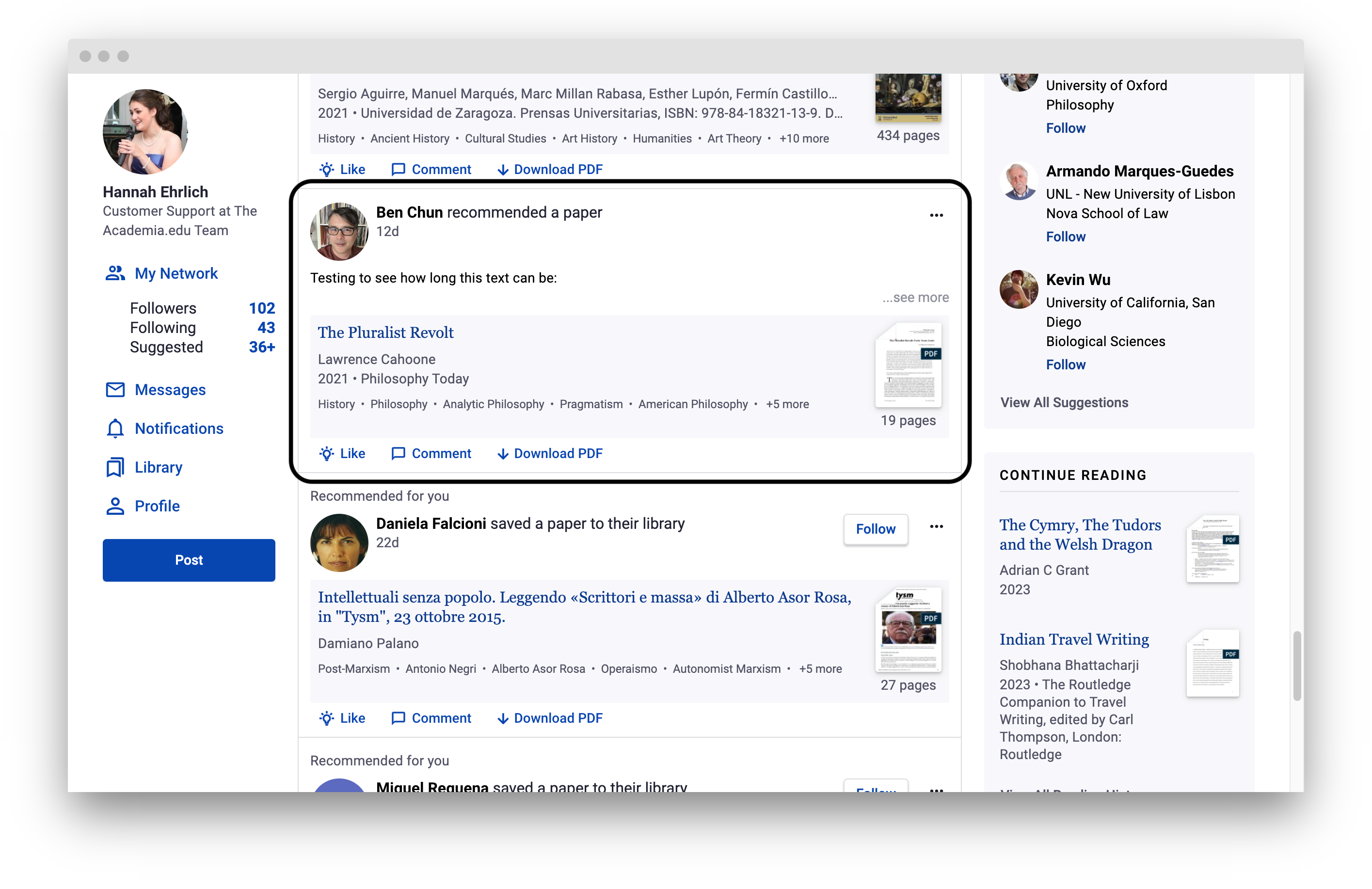 You can also see the endorsements on any particular paper in the right-hand sidebar, or select "Show All" to see a longer list of endorsements for a paper.
Can I apply to be an endorser or ask another question?
Of course! Please email support@academia.edu with any questions you may have.