As part of our Academia Premium subscription, we'll display a huge collection of additional analytics on both your papers and your profile. Uploading to Academia Premium is easy - just select any of our feature pages (try clicking "Mentions"), click "View" or "Upgrade," then enter in your payment information and you'll be good to go! You can access your analytics by clicking "Analytics" in your top navigation bar.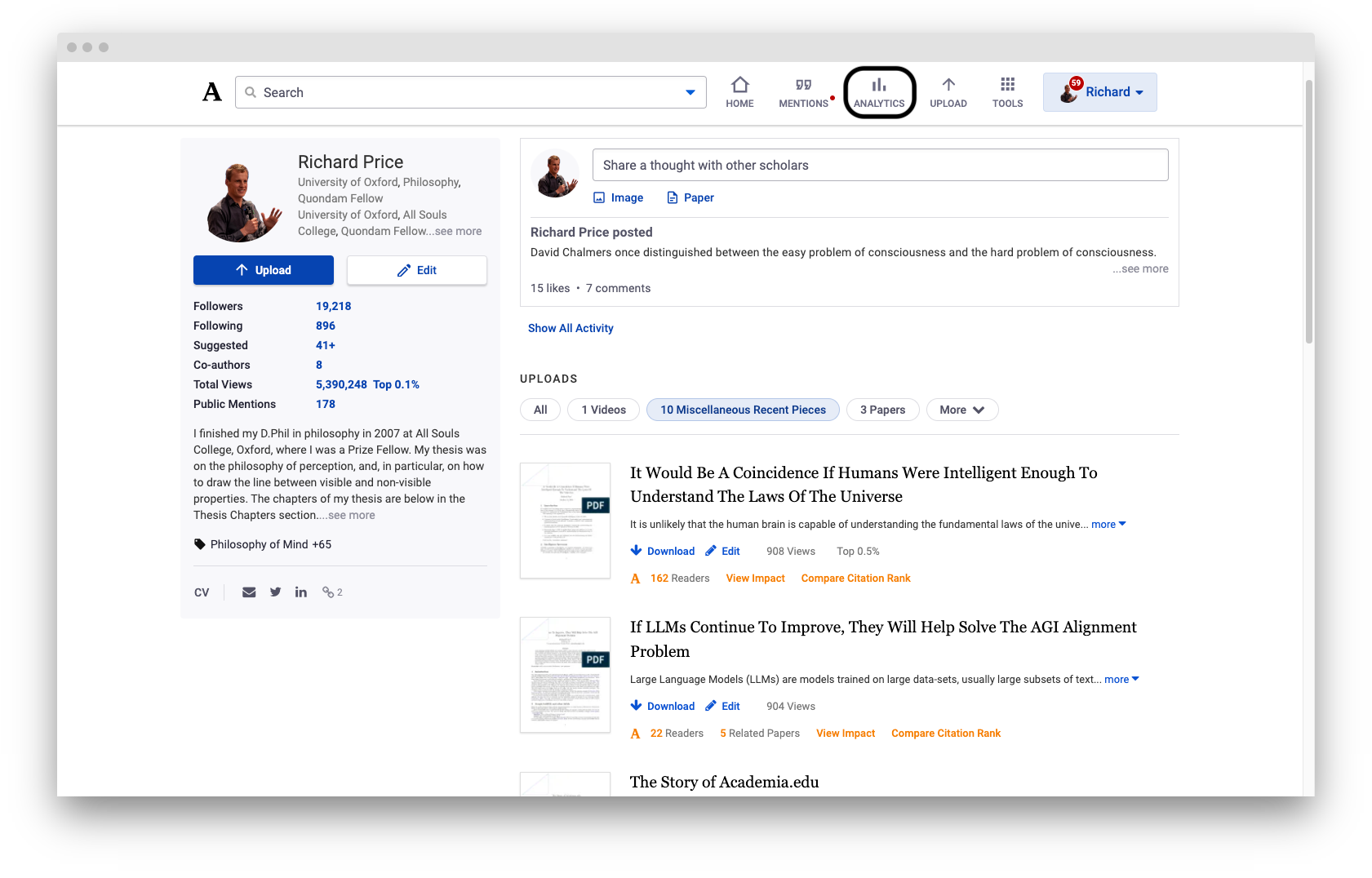 Here's a brief overview of some of our additional analytics you get as part of our Academia Premium package. We'll break down each feature more comprehensively below.
Advanced Overview
Detailed Paper & CV data
Keywords


Advanced Overview

On Academia's Overview page, the default analytics page, we'll now show you additional data about the hits in your analytics table, including the university and role of Academia users visiting your pages and profile. We can't always find this information, but we'll do the best we can when we're able.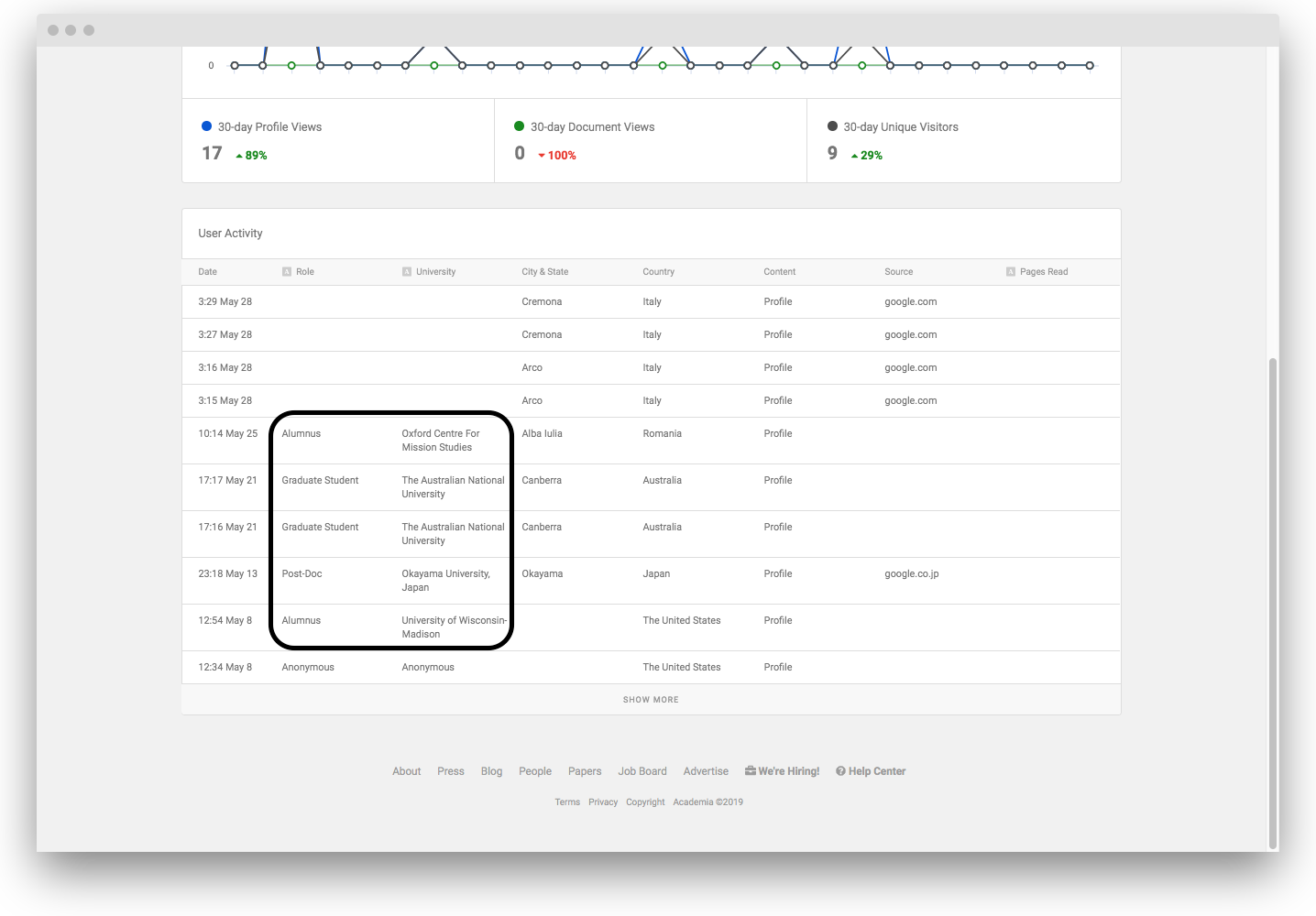 Annual Impact Reports

As part of our basic Academia account, we include a free 30-day Impact Report. This tab, which can be found by clicking "Impact" in the top Analytics navigation bar, shows you how your papers compare to other papers similar to it on the site.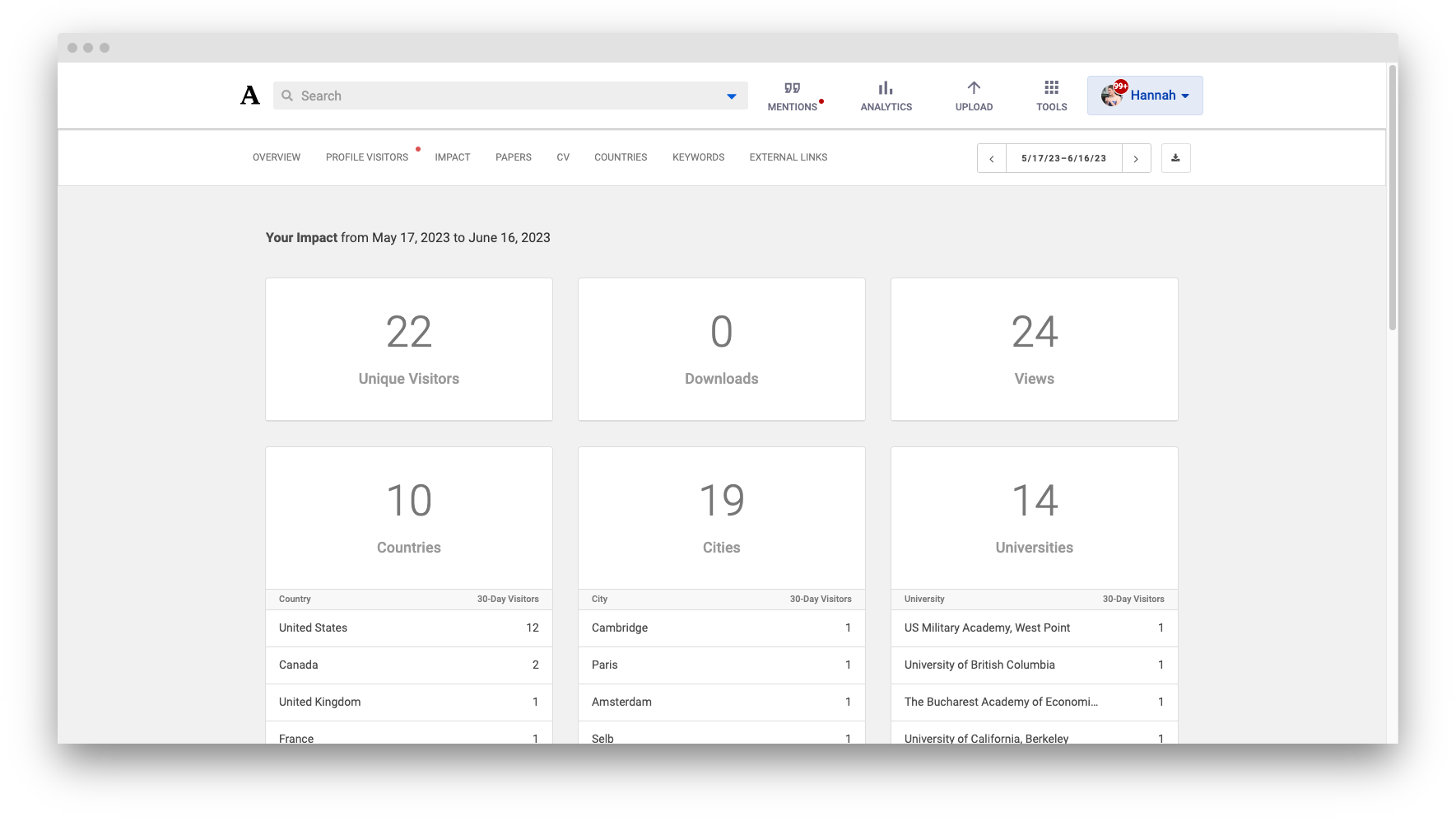 You'll be able to easily export this data, which can be displayed to show the wide reach and impact of your papers, in places where you might feel it's valuable: be that applying for a job, appearing in front of a tenure committee, or competing for a grant.

If you have questions about your Impact tab, you can read our full support article on Impact, which breaks down each box.


Detailed Paper Data & CV Analytics

We do provide some data about how and from where your specific papers and CV are viewed. However, with Academia Premium, we provide more comprehensive data regarding each specific paper. You can access this by clicking "Papers" in your Analytics navigation toolbar, and then scrolling down the paper you're interested in, and clicking "Impact."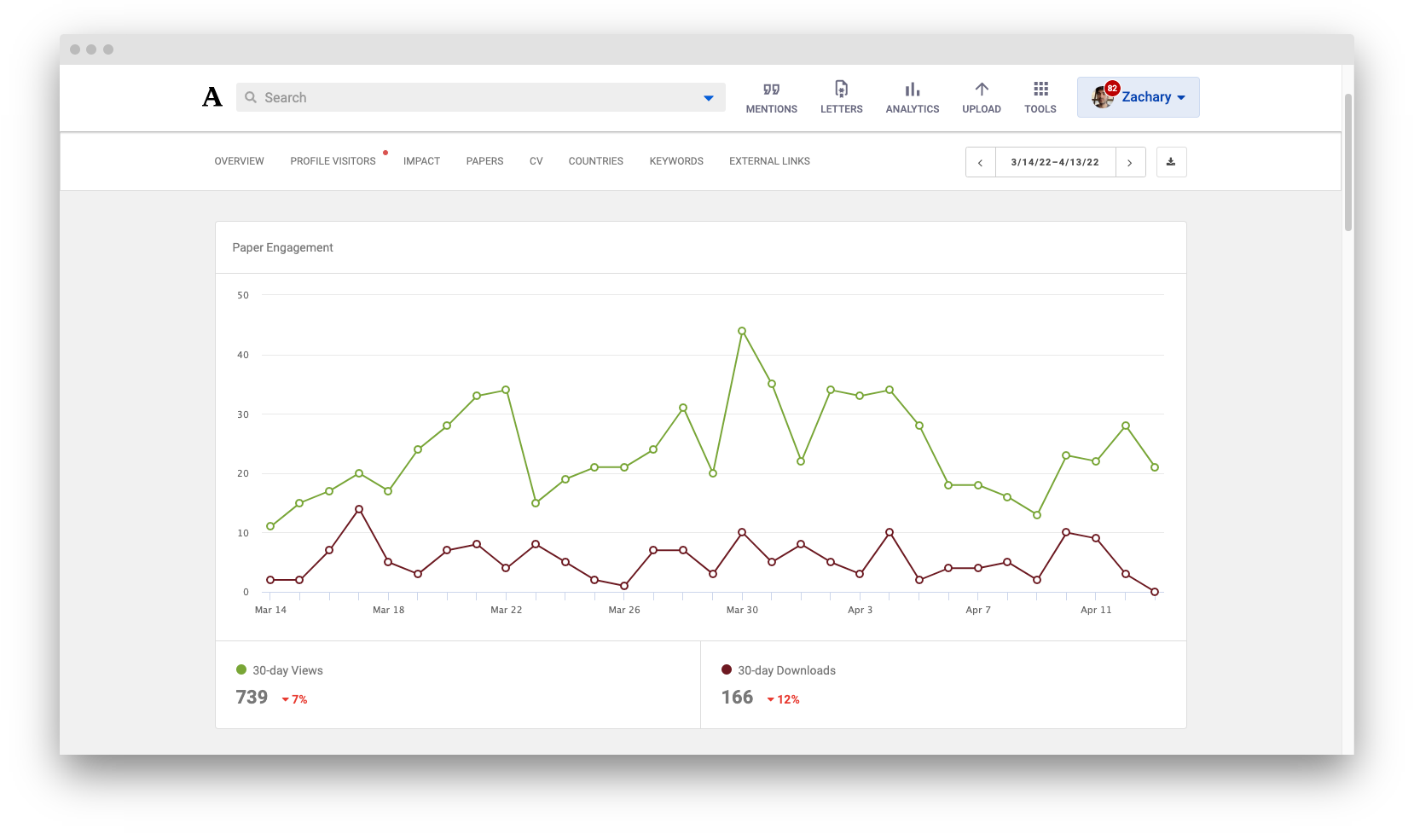 In this area, we include information about your paper such as how many people in each city, country, affiliation, and research field are viewing it. We'll also display more details about where they came from and how much of your paper they read on the site. Please refer to our support article on Impact to see what each specific box on this page means.

In addition to our statistics in impact, we'll also provide some additional statistics about each paper. First, we'll provide a paper engagement graph tracking the activity of users around each specific paper. Below this will be a chart of indicating specific information about each user who visited the specific paper you're looking at.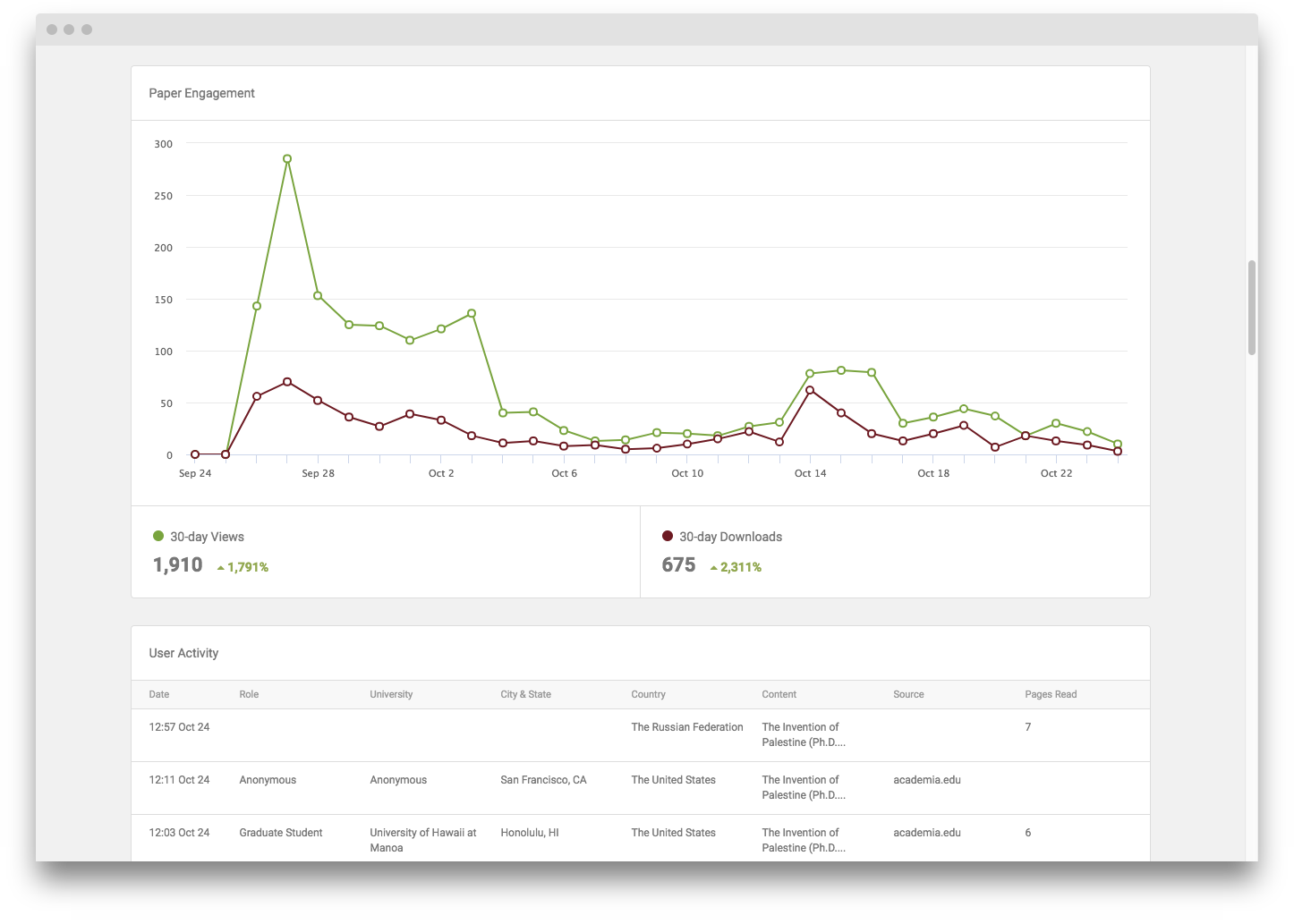 Lastly, we'll break down users by country for any specific paper or for your CV, giving you a better understanding of your global reach.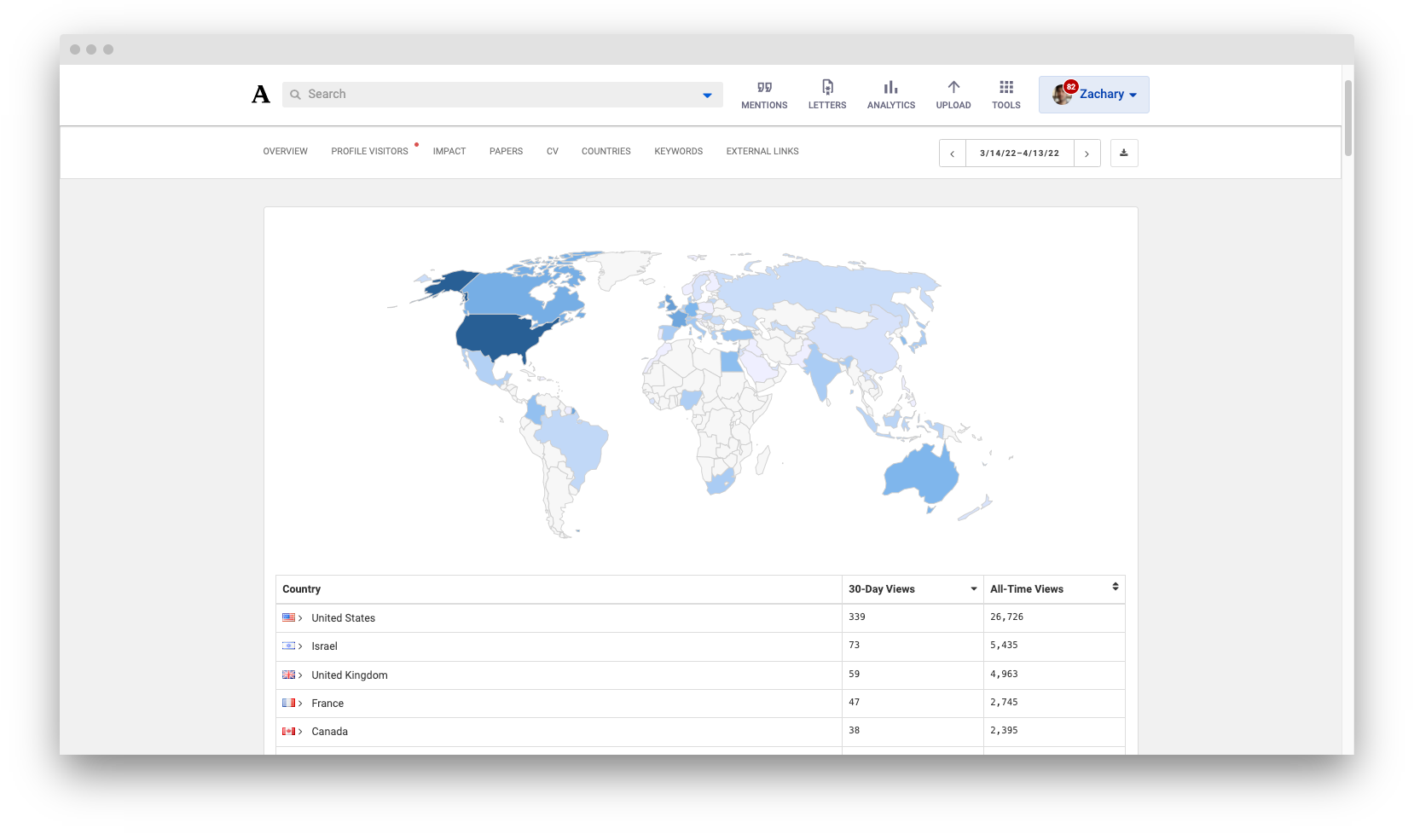 Keywords

A large amount of in-Academia traffic comes from users searching specific keywords, research interests, or title excerpts. On the keywords page, we'll display for you the following information:

1. When the search was executed.

2. What rank your paper appeared in the search results. (For example, if your paper was the second paper in the query results, that would mean the paper had a rank of 2.)

3. What paper we displayed in that result.

4. What search query was used.